When the premises at 55 Stuart Highway became available in late 2020 it presented both an extraordinary opportunity and a surprising turn of events.
The site had been home to two much loved art galleries since 1985: Framed Gallery 1985-2017 and then Provenance Arts 2018-2020. In between the two, renovations in 2018 had enhanced the display and flow of the interior and a multi-media area was added, making it a truly unique space. It was our founder Felicity Wright, working as Mentor Manager at Injalak Arts, who had overseen the renovations and establishment of Provenance Arts in the space in 2018.
Felicity left Injalak Arts, Provenance Arts and the Top End in early 2019 to spend time supporting her youngest son's final years of High School in South Australia. 18 months later she received a surprising call from John Clark and Anne Phelan, who had operated Framed Gallery and still owned the building, explaining that they were looking for a tenant and wanted to see the space continue as an art gallery.  They also expressed  respect for her work and what she had achieved over many years and two periods as Manager at Injalak Arts. Like many people Felicity was very disappointed when Provenance Arts closed, but she was aware of the uniqueness of the space and what an important role it had played in the cultural life of Darwin, the Northern Territory and Australia for so many years.
A brief history of 55 Stuart Highway
Framed Gallery
For 33 years Framed Gallery was a Darwin icon. Anne Phelan was the co-founder and Director and created a gallery unlike any other in Australia. Her motto was 'art for everyone' and every day we meet people who remember her and the Gallery with great fondness and respect. Anne and her husband and business partner John Clark made a huge contribution to Darwin and the Northern Territory and created a unique destination for so many visitors.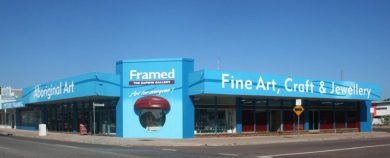 Provenance Arts
Reluctantly retiring in 2017 due to ill health, the premises became available and Anne was delighted when Injalak Arts took on the lease to create a brand new arts space. After a frenzy of renovation and planning Provenance Arts was opened by Injalak Arts in July 2018. Funding to undertake the renovation had been received from Tourism NT through a grant and the art centre also made a contribution.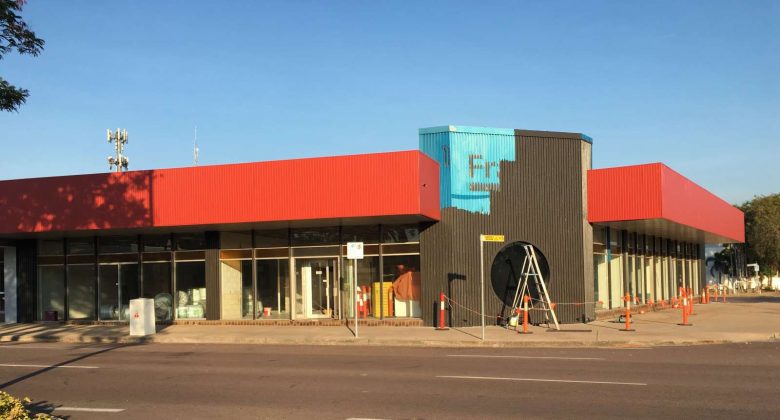 The renovations were overseen by Troppo Architects and undertaken by GT Builders with cabinetry by Brilliant Kitchens transformed the building internally. Branding and design work by Amber Young Graphic Design changed the external appearance giving it a dramatic makeover that was both contemporary and welcoming. The window decals on the Geranium Street windows were a stunning addition and pay respect to a number of Top End contemporary First Nation fabric designers. It was a bold entrepreneurial step for a remote community art centre and got terrific support from the Darwin community and visitors from the outset.
The business traded strongly, however, as time passed it was challenged by the events of 2020 and the onset of COVID. After some consideration, the decision was made by Injalak Arts' board to focus its resources on sustaining the art centre in Gunbalanya and stop trading at Provenance Arts. It closed shortly after in October 2020.
Visitors to Songlines regularly ask about Provenance Arts and expressed their disappointment that it closed. This information is to explain the history.