Over the years our founder, Felicity Wright (aka Flick), has helped create extraordinary arts, culture and tourism experiences in remote Northern Territory and South Australia. She is committed to fostering cross-cultural awareness and respect and has spent the last 35 years working for and with remote Indigenous community art centres around Australia as an administrator/manager, advocate, researcher, published writer and consultant. She has an unparalleled track record in the sector. Felicity also has a great love for quality arts and crafts, seeing them as an expression of human skills, knowledge and spirit. This is evident at Songlines where our art and crafts are presented with integrity and respect.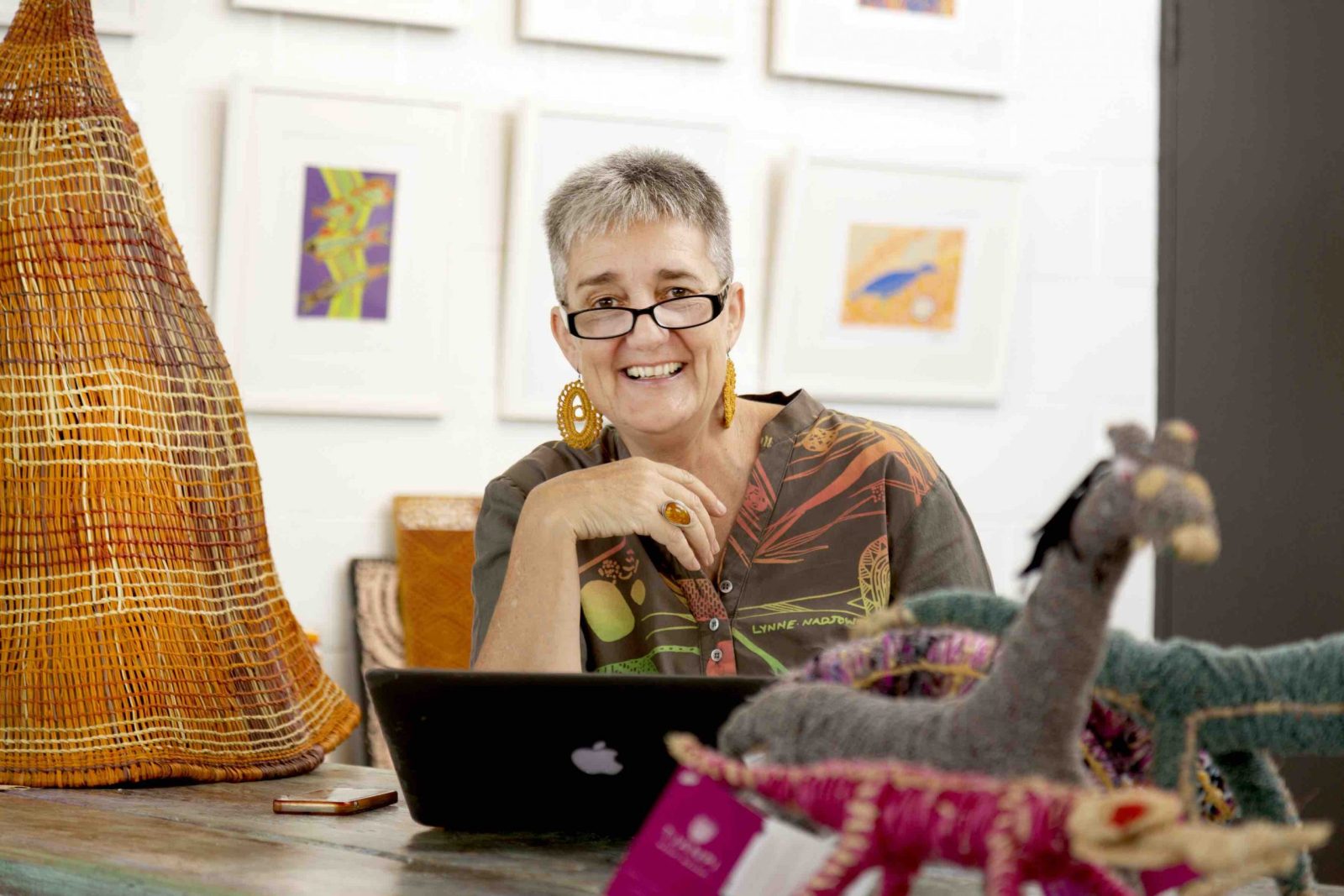 As Mentor Manager of Injalak Arts ( in Gunbalanya 300 km east of Darwin, just inside Arnhem Land) for 10 years in total, Felicity was responsible for oversight of 200+ active artists and craftspeople, production of thousands of art objects, a retail space, a fabric printing workshop, demonstrations, Injalak Hill Tours, a Mindil Beach market stall, exhibitions, publications and delivering quality visitor experiences for up to 10,000 people per year. She loves to work collaboratively and welcomes opportunities to co-create.
Brief bio
Felicity began her career with remote community art centres in 1986, back when they were still few in number, relatively unknown and extremely isolated. She was given an extraordinary opportunity: to be Art Coordinator/Manager of Warlukurlangu Artists in Yuendumu (300 km NW of Alice Springs) and stayed for nearly three years. It changed her life and in that time it took her from the Tanami Desert to Melbourne, Adelaide, the Sydney Opera House, the Achille Lauro in Fremantle during the Americas Cup, Broome and finally New York City, always accompanied by artists.
After that she went on to work in many different capacities with Aboriginal and Torres Strait Islander artists and elders across the continent, often taking her children with her. She was manager of Injalak Arts twice (1991-95 and 2013-18) and also worked for Bula'bula Arts in Ramingining (2001) and Mimili Community Council in the APY Lands (1995-96).
Felicity continues to work as a business management consultant supporting art centres with strategic business planning, marketing, and governance.
You can read more about Felicity's work for and with thousands of Aboriginal and Torres Strait Islander artists in more than 70 remote locations around Australia on her consulting website Felicity Wright and her CV is here.