We are delighted to host interactive weaving workshops taught by First Nations experts from Top End remote communities. We are offering two different Workshops in March 2023.
3rd June: Introduction to Pandanus Mat Weaving. This is a new workshop and we are delighted to be able to offer it. Bookings and information HERE.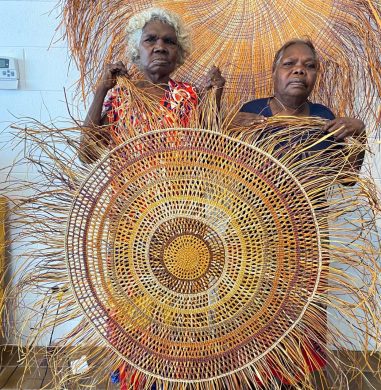 More information about our Introduction to Pandanus Stripping and Weaving Workshop
Duration: 4 hrs
Starts: 10.30 am (sharp)
Lunch: 12.30
Finishes: 2.30-2.45 pm
Songlines closes at 3 pm
Cost: $175 per person + booking fee
We start by learning the technique for stripping fresh (prickly) Pandanus fronds. There is plenty of Pandanus provided which is just as well, it's not as easy as it looks. Learning to strip the fibre is an interesting challenge and builds appreciation for the work and skill involved in a finished basket or mat!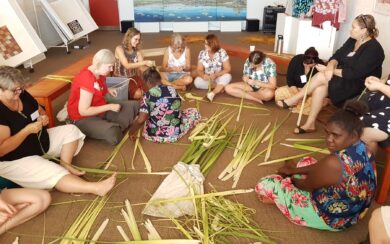 Don't worry if you can't master that in a hurry, after an hour or so we provide pre-prepared fibre so the weaving can start. Everything is hands-on. We will also explain basic coiling techniques, handling dry Pandanus and the amazing colour palettes that are created from locally sourced natural dyes.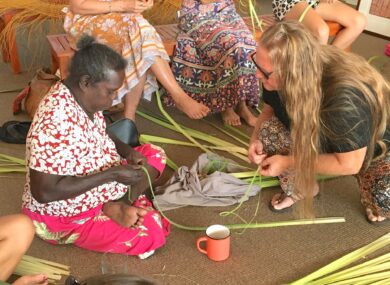 Songlines is open from 10 am (workshop starts 10.30 am sharp) and you are welcome to come in before the workshop for a complimentary tea/coffee and chat.
Feedback
This has been extremely popular with rave reviews from participants.
"Best ever! Thank you beautiful ladies x" Cazza
"Fabulous workshop!, thank you Songlines Arts, look forward to the next one! 
" Carmel
"A wonderful experience" Jacinta
Stay in the loop …
Please sign up to our e-newsletter for updates or follow us on Instagram or Facebook to check upcoming events. Don't hesitate to contact us if you'd like to know when the next workshop is taking place.