We stock a select range of fabric digitally printed in Australia. The digital prints give accurate reproduction of original artworks and can be all the colours of the rainbow, unlike hand prints that are limited by the number of screens used. A digital printer is like a giant ink jet printer, the design is photographic and computerised and then tiny nodules spray the ink onto the fabric. The process does not use water to wash out the fabric or screens and there is no wasted ink, so it has a relatively low environmental footprint.
Local artist Chips Mackinolty has been exploring digital fabric design for a number of years. We are also are the sole stockists of the Papulankutja Artists fabric range produced by Flying Fox Fabrics. Papulankutja (Blackstone) is a community located within the Ngaanyatjarraku Shire Council, Western Australia and is approximately 800 km south west of Alice Springs, NT. The art centre supports local artists and those living in neighbouring community Mantamaru (Jameson), 70 km to the west.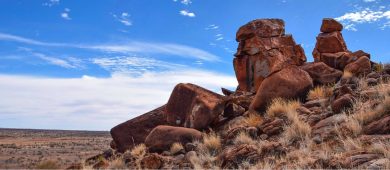 Access to digital print studios has become a phenomenon in recent years, enabling artists and fabric designers to produce their own lengths.