An event featuring Australian Indigenous Fabric Design
Sew Gorgeous 2023 – Awards & Exhibition Opening
August 6th from 4 – 6 pm.
More info and book tickets HERE.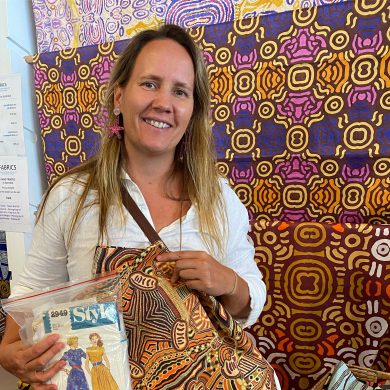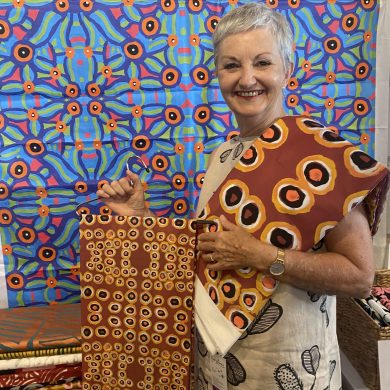 Sew Gorgeous: a special collaboration between Flying Fox Fabrics & Papulankutja Artists
Sew Gorgeous brings together creatives who love working with textiles with stunning fabrics designed by artists from Papulankutja and Mantamaru. We want to:
Promote Papulankutja Artists' fabric designs and bring attention to their fabulousness and versatility
Promote slow and ethical fashion
Encourage people to work with Australian fabrics designed by First Nations Australians
Sew Gorgeous 2023 – what is it?
In early 2023 we sought out 25 creative people/teams to participate in a special project. We invited them to lodge EOIs telling us what wearable item they would like to make with Papulankutja Artists fabrics. The group chosen includes students, enthusiastic home sewers and professional sewers/designers  from all over Australia.The fabric is being distributed to the participants in April/early May and they'll return their finished items (wearable art!!) in early July 2023.
The finished garments/wearables and the creatives who made them are celebrated in an Awards night in late July.  They will all be on exhibition at Songlines for 6-8 weeks.
Participants in Sew Gorgeous 2023
We are delighted to announce that the following people are making wearable art for Sew Gorgeous 2023:
Marcia Russell; Deanne McEwen; Bonnie Short; Cara Baillie; Nabeeha Kasim, Kieren Whatley and Emily Lien Bao Djhun with Charlee Shone; Jana Konkolova; Sue Catt; Jodi Brown; Vanessa Gregory; Tatiana Hoffman; Athenie & Lallie Leckey; Jennifer Molloy; Fe Garrett-Benson; Christine Kelly; Carmel Ryan; Shelley Truscott; Delwyn Castellano and Tamara Salajic; Simon Turner; Lauren & Erin Ritchie; Yvonne Wilson; Anne-Maree Yee; Olga Bryukhovets.
Where does the fabric come from?
Flying Fox Fabrics (FFF) has a history of promoting and supporting Indigenous printed fabrics. In 2020 Flying Fox Fabrics approached Papulankutja Artists – an Aboriginal owned art centre that has members in two tiny remote communities: Mantamaru (Jameson) and Papulankutja (Blackstone) in the Ngaanyatjara Lands in WA. Flying Fox Fabrics made a proposal to digitally print some of the artists' fantastic painting designs onto fabric. The artists said 'YES' ! There are now more than 20 bright and beautiful designs printed under license and the artists receive royalties for every metre printed.  
The fabric is printed by Next State Print in Melbourne – so it's Australian made! They've kindly agreed to be a project sponsor to help make it happen.
Timelines
5th March – Launch
26th March – EOIs closed
9th April – Confirmation of participants
28th April – Fabric dispatched on or before
30th June – Completed garments received in Darwin at Songlines
6th August: Awards Night and Exhibition at Songlines
How it works
Every participant receives a credit voucher on receipt of completed entry – this can be redeemed on the FFF website, Etsy or instore at Songlines Arts.
There will be two levels (judged by quality/complexity of the items once received): Credit vouchers for: Tier 1 $250 and Tier 2 $150.
And there's more – 9 PRIZES
Prizes will be awarded in the following categories
Fabulousness (sheer over-the-top-ness)
Surprise (well, we didn't think of that)
Comfort (yes please)
Strategic (minimal use of fabric, maximum impact)
Feature of fabric design (oh, that's an amazing print!)
Innovation (that's a great idea)
Fun (if it makes us smile)
Chic (ooh lala)
Je ne sais quoi (you work it out)
Each prize will be a Gift Voucher worth $150 to spend at Songlines Arts
Stay posted
Instagram: @flyingfoxfabrics @papulankutjaartists @songlines
Our facebook pages: FlyingFoxFabrics
#sewgorgeous2023
For more information:
For inquiries contact:
Felicity (Flick) Wright
flick@flyingfoxfabrics.com
0439 722 951
Our websites: www.flyingfoxfabrics.com and www.papulankutjaartists.com and www.songlinesaustralia.com
FFF Etsy shop: https://www.etsy.com/au/shop/FlyingFoxFabrics