We are thrilled to bring you Frock On! 2022
The Frock On! project invited creatives to make wearable (art) items from Ikuntji Artists' beautiful hand screen-printed fabrics. The 30+ garments/items will be on exhibition at Songlines until early September.
In the last 5 years Ikuntji Artists has become internationally renowned for its artists' beautiful and meaningful fabric designs. Clothes from: Frock On! 2021, have been traveling Australia and the world. The fabrics are available at Songlines and also online from Ikuntji Artists.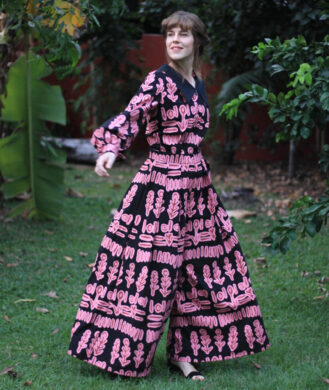 Frock On! 2022
Is a celebratory even that brings together Aboriginal fabric design and people who like to sew with the aim to ….
Showcase Ikuntji Artists hand-printed fabric designs and bring attention to their fabulousness and versatility
Showcase participants' skills as a designer/sewers
Promote Australian Indigenous designed fabrics and the making and wearing of handmade clothing and slow fashion
Participating Creatives
The call out to creatives was in March 2022. Our creatives range from students to professional sewers/designers and everything in between:
Louise Hamby, Anna Reynolds, Charlee Shone and Erin Costelloe, Darwin High Middle School Students, Alice van Meurs, Deanne McEwen, Sue Catt, Suzie Fry, Cara Baillie, Doreen Dyer, Dinah Mitchell, Marcia Russell, Fiona Garrett-Benson, Erin and Lauren Ritchie, Simon Turner, Mandy Tootell, Monica O'Brien, Ebony Costa, Carmel Ryan, Anne Marie Yee,  Indriani Tungka, Olga Bryukhovets
The Exhibition & Awards Night
The Exhibition and Awards afternoon on 30th July  is the culmination of months of preparations and work by 20+ people from all over Australia (see participants below).
More than 30 amazing garments will be on exhibition and 8 prizes will be awarded. It's a ticketed event (numbers are limited) and they can be purchased online here.
Who is behind Frock On! 2002 
Frock On! is an Ikuntji Artists project facilitated by Felicity Wright of Flying Fox Fabrics and exhibited at Songlines.